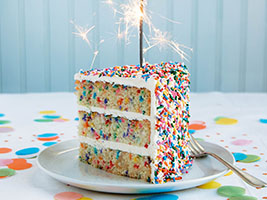 A friend whose birthday is close to mine recently described to me how each birthday gets harder. I understood it, but I thought to myself that I feel just the opposite. Today I thought more about this while I had some quiet time during a morning run. I'm always curious about what the new year will bring, and grateful to be here to experience it. I'm grateful for my family and friends who have shown me so much love, support, and generosity. I'm grateful for the things I've gained, and also for the things I've lost. I've learned a lot from both. I'm very grateful for my children, and for good health, because I wasn't sure I would have them, and I fought hard for them.

I hope I am a better person than the year before. Many things that I concerned myself with in the past have now faded, while other things that have stood the test of time or were more deserving have now taken their rightful place. Things that were so easily black and white, are now a more interesting and challenging shade of grey. I know enough to know there is so much more to learn. I'm grateful for all the people and places that have provided me with so many life lessons, and I'm looking forward to all the future people, places, and lessons I've yet to experience. I think of family and friends that are no longer here, and the happy memories that remain, and I hope that I will somehow impact the lives of those close to me similarly.

So, here's to a new year. Nice to meet you. I'm looking forward to getting to know you better.